Achieve Successful Employment Pass Application in Singapore 2020
Following the recent tightening measures for Singapore foreign talent policy, coming into effect this September 2020, many companies are thrown a little off course as the government reduces work pass approvals and renewals, coupled with more scrutiny for firms who have an imbalance foreigner-to-citizen ratio in their workforce.
With multitudes rounds of changes introduced and long strings of regulations to keep pace with, many companies are finding it difficult to stay up to date with the new implementations. Read on to find out more about the Employment Pass in Singapore, as well as the requirements and factors to increase the success rate of approval.
Engage the help of experts in the market for your employment pass application here.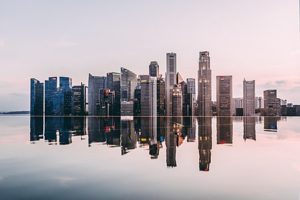 What is Employment Pass in Singapore?
Being voted as the best overall destination for expats for 3 consecutive years, Singapore has grown to be one of the most preferred work destinations around the globe. As our economy developed rapidly, there is a surge in the number of foreigners looking to work across all job sectors, be it high-tier professional openings or unskilled manpower jobs. As such, the Singapore government implemented different work permits to set these polar categories of employees apart and distribute privileges and restrictions justly according to the value each category of manpower brings along.
The Singapore Employment Pass is one type of work permit/visa granted by the Ministry of Manpower (MOM) to foreigners who hold a legal job in Singapore. The Employment Pass covers top tier jobs such as professionals, managers, executives, and specialists. With this work visa, foreigners are allowed to live and work in Singapore, as well as travel in and out of the country without having to apply for entry visas.
Key features of Employment Pass in Singapore?
The Employment Pass validity is usually 1 or 2 years per application and can be renewed up to 3 years thereafter. There is no levy associated with the Employment Pass and the typical processing time takes around 3 to 8 weeks upon submission.
Is there a quota for Employment Pass application in Singapore?
Theoretically, companies are able to hire unlimited number of foreign professionals under the Employment Pass scheme since there is no quota for it. However, in order to make sure that foreign talents are a supplement to Singapore's workforce instead of competing for jobs with Singaporeans, the government has imposed strict restrictions and criteria for companies to abide by. Every Employment Pass application will be subjected to MOM review based on the applicant's and company's merit.
To achieve the best chance of obtaining approval for your Employment Pass application, read on to familiarise yourself with the eligibility requirements.
Here are the crucial factors that affect your success rate of Employment Pass application:
Eligibility criteria for employees
1. Salary
Starting from September 2020, MOM raised the salary floor for Employment Pass by $600 to $4500. December onwards, employment pass holders in the financial service sector will have to meet a higher salary requirement of $5000.
Qualifying salaries of older and more experienced Employment Pass candidates in their 40s have also seen an increase, calling an amount double of the minimum qualifying salary for the youngest applicants. For renewal applicants, these new salary criteria will come into effect from 1 May 2021.
The reason for the move is largely due to the COVID-19 pandemic prompting the government to take action against rising retrenchments and address concerns about the competition between Singaporeans and Foreigners in the job market.
For candidates with income levels lower than the salary floor, they will not be eligible to apply for Employment Pass. They may opt for S Pass instead.
For more information on the recent tightening measure implemented for Singapore foreign talent policy, click here.
2. Academic Qualification
As Employment Pass is reserved for top-tier jobs such as professional, manager, executive, and specialist roles, academic qualification is used as a criteria for the eligibility of Employment Pass. Acceptable educational qualifications are usually tertiary degree from reputable universities. Qualification from unaccredited institutions will not be recognised.
3. Employment Background
Individuals with exceptional professional skills and expertise with a proven track record of relevant experiences have an edge in obtaining approval for their application. This is also an overriding criteria for individuals who do not possess academic qualifications from recognised educational institutes. Strong professional employment history and skillsets may compensate for it and have a higher chance of approval.
Presenting a long employment history might not be sufficient as applicants are expected to have relevant working experience for the offered job. To ensure that the working experience of the candidate is relevant, the employment background and skills should match the job offered and the industry. With that, choosing the right position title that accurately reflects the job scope and responsibilities of the applicant is equally important too.
Do also note that MOM does not prefer individuals who switch jobs frequently. Should the candidate's job profile exhibit inconsistency, the application runs the risk of being rejected.
Eligibility criteria for employers
1. Advertising Requirement
In order to ensure that companies consider Singaporeans fairly for job opportunities, regulations are implemented and enforced by MOM. Following the Fair Consideration Framework, hiring companies are expected to advertise their job vacancies in MyCareersFuture for at least 28 days before applying for an Employment Pass. Should any changes be made to the job advertisement, the revised opening will have to be kept open for at least another 14 days after the change. Otherwise, the Employment Pass application may be rejected for not meeting the advertising regulations.
MyCareersFuture is a platform that facilitates online job matching between local job seekers and employers. The objective of such advertising requirements is to encourage companies to hire and nurture local talents. Granted that no Singaporeans applied or are suitable for the position, only then companies are allowed to hire foreign professionals.
Although there is no quota set for Employment Pass, companies with workforce proportions that suggest a bias against locals will be put under a Watchlist and their work pass applications will be subjected to greater scrutiny.
Employers are not expected to advertise the position in the following cases:
Employee headcount is less than 10
Monthly salary meets the requirement of $20,000 and above
Jobs applicable to intra-corporate transferee (ICT), such as a highly experienced applicant holding a senior position in a company
Period of employment is one month or lesser
2. Company
To secure a higher chance of success for your Employment Pass application, submission of a detailed explanation of the company's business activity, especially in the area of capital structure will be helpful. This is required so as to ensure that companies have the ability to generate enough revenue to sustain employees' salaries. Hence, documentation such as sales invoices, income tax statements, and bank statements will be needed for the verification process.
In circumstances where companies are not generating sales yet, the ability to show sound projections based on past experience in other countries and product lines or the presence of shareholders who are able to finance and sustain the company through down phases can increase the chance of successful Employment Pass application.
Manage your Employment Pass effortlessly with EPS Consultants
Let EPS Consultants help you manage Employment Pass Application and Recruitment while you sit back and take a breather. Focus on core business activities and we will handle these administrative procedures for you. For each application – initiative from our end will be taken to collate, manage, and track the application, and allow you an instant update and overview of the applicants.
Speak with our Friendly Consultants to find out more!
Reference: Ministry of Manpower