Benefits and Drawbacks of being a Contract vs. Permanent Employee
Having a singular career – a permanent job at a reputable organisation with benefits, recurring wage, and retirement plan – are things of yesteryear. Some believe that the idea of focusing on a single career is out of date these days. The new fashion is to invest their efforts in several kinds of occupations to further their learning and gain diverse experiences. Contract job is one of the popular employment arrangements adopted by these individuals.
In Singapore, according to the Labour Force Survey released by MOM in 2019, the number of contract employees increase from 17.5% in 2018 to 18.4% in 2019 and is projected to increase in the years to come. This rising trend is the result of the shift in employees' perspective on permanent jobs and companies incorporating more contractual workers in their manpower plans.
Some would shy away from the thought of accepting contract roles without truly understanding the pros and cons of it, which might lead to missing out on great opportunities. Therefore, this article looks to counteract the belief and myth surrounding contract work to provide readers a fresh and modern view on this topic. Read on to guide your choice and be sure to pull the trigger on the right decision.
Looking for exciting job opportunities? View our current openings here.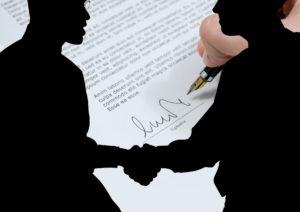 Benefits of being a Contract Employee
1. Better Work-Life Balance
One of the biggest advantages of being a contract employee is the work-life balance awarded along with the job. Employees working under contract have the flexibility to manage their career path more so than permanent employees as they have the freedom to plan for a career break. 
Employers are generally more open to flexible working arrangements for contract employees as long as the agreed work is delivered on time and to standard. This advantage is appealing to individuals who like to have control over their work schedules and achieve greater work-life-balance than if they were in a permanent, full-time job. Flexible work schedules have been proven to increase job satisfaction and provide better mental and physical health too.
2. Expand your skillset and work experiences
Working as a contract employee allows for greater exposure to a variety of organisations, industries, as well as roles and responsibilities. This diversity helps to train individuals to be more intellectually nimble, adaptable, and resilient. Contract employees are usually able to pick up the unique demands of each job and workplace quickly.
In fact, an employee's loyalty to the company plays an increasingly less significant role in the management's decision of dismissing a worker. Companies these days value employees who have diverse working experiences as they are able to bring along innovative ideas from their previous company and implement it in their current workplace.
Also, there has been a general consensus that contract employees tend to be more experienced with working remotely, which is of growing importance with the adoption of the work from home arrangement.
3. Build your network while escaping office politics
Having an unhealthy work environment due to office politics is something hated by many. Since contract employees do not stay in an organisation for long, they face less cut-throat competition as compared to the case of permanent employees and this helps them to avoid being dragged into the war of office politics. Therefore, allowing these individuals to better focus on the tasks at hand and achieve better performance.
In addition, as contract employees are seen as less of a threat to full-time employees, they are able to build rapport and develop closer relationships with staff in every organisation they join. As such, contract jobs offer the perspective of detachment and allow one to enjoy the benefits of growing their network while avoiding office politics.
4. Increased earning potential (higher gross salary)
As opposed to the common belief that contract employees are paid lesser as compared to permanent employees, this is not true for all cases. Contract employees are able to call for a higher pay packet than a normal salaried position of the same level.
As contract workers become more experienced, they will also be able to negotiate for a higher remuneration package. As such, the earning potential of contact employees will likely increase faster, especially if these individuals are able to plan their contracts well and set up back-to-back employment arrangements if their skills are high in demand.
Drawbacks of being a Contract Employee
1. Lesser Job Security
The most common concern of being a contract employee is the perceived lack of job security involved with holding a role that will expire in a set amount of time. Many contract jobs are on a 12-month term period and workers have to kick start their job search process all over again six months into the role. This constant cycle is not particularly favoured by individuals who value job security, consistency, and stability.
Contrary to popular belief, contract jobs offer their own set of job security. Some contract employees are parked under the headcount of employment agencies and are not affected by the organisation's business restructuring. Therefore, these employees have a lower risk of being let go of, translating to better job security. 
Moreover, it is easier for contract employees to find a new job as compared to permanent employees as they are nimble and able to tap into their professional network easily. In that sense, they are more secured than permanent employees who got laid off and have less experience in finding work elsewhere.
2. Lack of Welfare, Benefits, and Perks
For contract workers, there are typically lesser employer-paid benefits as compared to permanent employees. This may be a concern especially to older workers who have their own families to support as there are fewer safety nets available to cushion their financial impact should they fall ill or meet an accident.
However, this financial uncertainty can be negated by a fast-tracked career and higher gross income. A career in contracting may enable one to rise up the ranks much faster than those in permanent jobs. Employees in permanent roles are typically only considered for promotions once every 18 to 24 months. For contract employees, they are able to negotiate for new terms to their advantage, every time they change an employer or gig. This is especially true for individuals with niche skills that are high in demand.
With proper financial management and investment in the right insurance policies of your own, contract employees need not worry about the lack of employer's benefits and welfare.
Which is better: Contract Work or Permanent Job?
Some individuals value stability and security, and there is nothing wrong with seeking for a stable permanent job above all else. As experts say, in today's competitive job market, have faith in your own capability and you should not fret too much about stability. The real security stems from understanding your skills, strengths, and how you can value add to the company.
Still unsure which employment arrangement is best for you? Speak with one of our friendly consultants, and they will provide you with timely and industry-specific information to aid you in deciding the best career option.