EPS Top Student Awards @ Singapore University of Technology & Design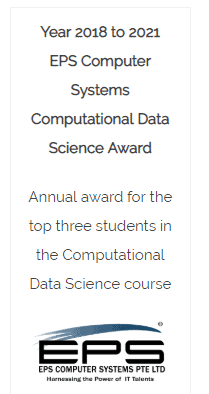 For the academic year of 2018 to 2021, EPS has collaborated with Singapore University of Technology & Design (SUTD) to provide annual award for the top three (3) students in the Computational Data Science Course. Named EPS Computer System Computational Data Science Award, these awards seek to recognize the achievement of the top-performing students in the hope of producing more Computational Data Scientists in Singapore 

Link Here: https://istd.sutd.edu.sg/giving-to-istd/
Singapore University of Technology and Design(SUTD) and Singapore Institute of Technology(SIT)  Partner
EPS is proud to be a Corporate Donor and Partner of Singapore University of Technology and Design (SUTD)  and Singapore Institute of Technology to help support a range of programmes, including:-
Scholarships and Awards
Bursaries and Financial Aid
Student Exchange and Overseas Opportunities
Co-curricular Activities
Special Programmes.
[metaslider id="3161″]
Mooncake-Making at Marina Barrage
EPS was one of the main sponsors for this event, together with the needy families in the Northwest area, old folks' home and children home, we were to make a total of 4000-8000 mooncake within 2 hours time-span.
The objective was to share the values of care and share with the less fortunate. In addition, the staffs of EPS had a good time of bonding with one another!
[metaslider id="3172″]