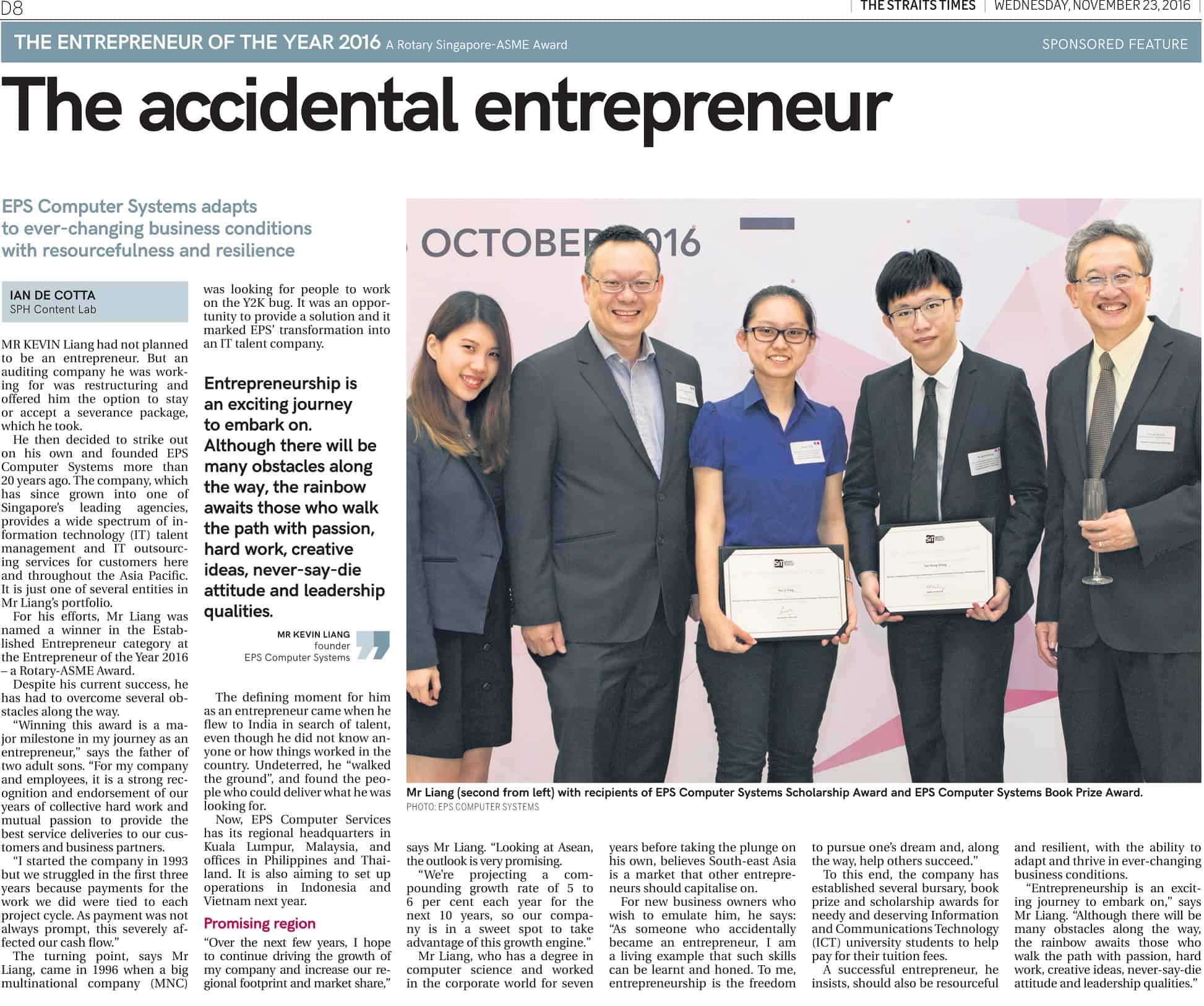 Published in the Straits Times on 23 November 2016 titled "The Accidental Entrepreneur", Kevin Liang, a recipient of the 2016 Entrepreneur of the Year award organized by ASME and Rotary Club of Singapore, shared the highs and lows of his entrepreneurship journey on how he has started his business and grew his companies to what they are today.
Kevin has founded EPS Computer Systems Pte Ltd ("EPS") in 1993 with a small capital from his savings.  He has struggled during the initial years due to cash-flow challenges.   With sheer hard work and determination, Kevin has managed to grow EPS to a regional IT outsourcing powerhouse with a current strength of over 500 employees and 7 offices in Singapore and the region.
Kevin shared that "Entrepreneurship is an exciting journey to embark on.  Although there will be many obstacles along the way, the rainbow awaits those who walk the path with passion, hard work, creative ideas, never-say-die attitude and leadership qualities."
Believing that entrepreneurship requires adaptability, leadership, resourcefulness and resilience, Kevin constantly reviews and revamps his business models to remain relevant. With lessons learned from his initial start-up years, he also pays close attention to cash-flow management to ensure there are always sufficient funds for business obligations.
"Our business management team and staff possess substantial HR and IT knowledge and experience, and this 'hybrid' combination gives us a strong competitive advantage as we are able to communicate effectively with our customers using the same technical language."
"With our strong business base firmly anchored in Singapore and Malaysia, and the emergence of an ASEAN common market, we want to expedite our presence in the other countries of ASEAN, which is expected to be a strong growth region in the years to come,"
"With a stronger regional presence, we will be able to pitch for larger projects and contracts to deliver our services to our global and multinational clients who may demand a region-wide service level rather than just in-country ones. This allows us to raise our profile and to compete and succeed better in the marketplace."
"In addition, the demand for services such as IT outsourcing and business process outsourcing will remain strong as companies see value in outsourcing these services to service providers and partners who are expert in these fields and can deliver these services in a cost-effective manner."
EPS is well-poised to take advantage of the strong business outlook in ASEAN to achieve accelerated growth in the next 5 years.  Kevin looks forward to EPS' growth and scaling greater heights with confidence.
Not forgetting the less-privileged and to support corporate giving, Kevin has initiated a number of bursary and scholarship programme through EPS in collaboration with higher education institutions such as Singapore Institute of Technology and NUS Business School, etc, to offer bursary and scholarship awards to the needy and deserving students.  Kevin firmly believes that "the best way to alleviate poverty is through education" and hopes to pay it forward to help grow and nurture future business leaders and entrepreneurs.
To inquire about EPS services, please contact us at:
Singapore: +65 6323 5240
Email:  info@eps.com.sg
Website:  www.eps.com.sg